Choosing the Right Water Polo Ball for the Toughest Olympic Sport
If you are fond of water polo, then you know that it is one of the toughest Olympic sports. If you are planning to play this sport and play it right, you should own the right water polo ball.
Water Polo Ball Available at Sprint Aquatics
At Sprint Aquatics, we sell goofball. Despite that name, there's nothing "goofy" about it. It is a wonderful alternative to a water polo ball. It is designed to help you practice the water polo and plenty of other games. It is soft and it lets you get a good grip of the ball.
The best thing about it is that you can easily inflate or deflate it using a straw.
You might ask: "what if I'm not a water polo player, can I still take advantage of this ball?" Yes, sure you can. Water polo is a tough sport. It lets you be in amazing shape.
This type of sport is not as popular as volleyball or basketball. There are plenty of reasons for that, but one of the most prevalent is that it is a tough game. It's not the kind of thing that most folks can pick up and play like they can play football or basketball.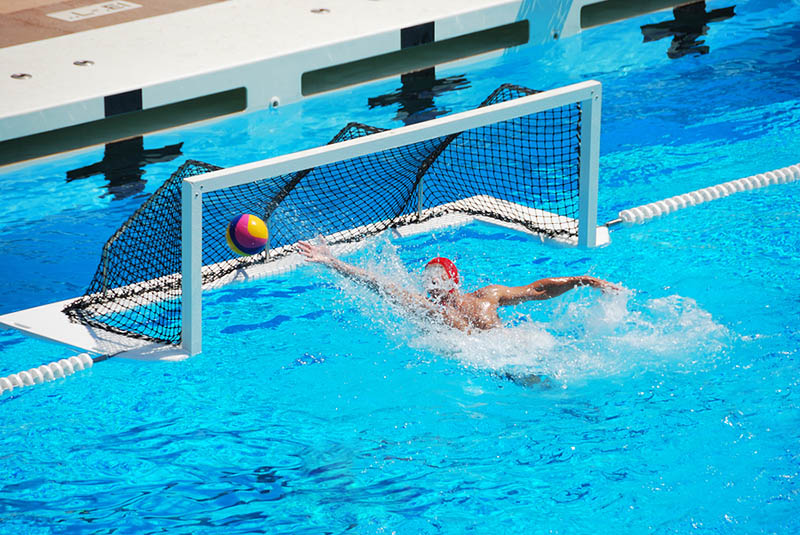 Water polo combines basketball, football, and swimming. It is also played in around 20 feet of water. Unfortunately, it gets little coverage because, again, not all people can understand or play it.
This sport is different. If you wish to play it, you must be swimming in 20 feet of water. But you are not really swimming there.
Rather, you are just staying afloat. You are treading water or just kicking your legs to stay afloat as you toss a ball around.
Then, there is the fact that your vision will be cloudy after water splashes everywhere. Other people in the game will dunk you underwater.
In the US, water polo has a player base that may not be large, but it is devoted. The US Olympic team competed in the Summer Olympics in Brazil but didn't make it to the highest echelon.
Should You Start Playing Water Polo
It is tough to play water polo if you do not have your own pool at home. However, if there is a public swimming pool near you, consider trying it out. This sport can offer you vast physical benefits. It offers aerobic and anaerobic workouts.
If you wish to boost your endurance, then this sport can help you increase it. Players of this sport can swim up to 5 kilometers in a game. That makes it also great for weight loss. An hour of playing this game can help you burn a maximum of 700 calories. Imagine playing it for more than an hour.
It also boosts your strength and cardiovascular health. Plus, if you have arthritis, this game is a great way for you to play without worrying about injury or aches.
If you wish to start playing this sport, get started with owning a water polo ball first. To order, please call (800) 235-2156.