Lightweight Magic Towel for Quick Drying After Swimming
Sprint Aquatics magic towel is lightweight. It is a thin towel but it can absorb a great amount of water. With it, you can say goodbye to those bulky towels that you cram in your tote before you go to the gym.
Convenient and Handy Magic Towel
It is probably the magic of being convenient and handy that makes it a magic towel. What's great is that it is just easy on the wallet but it has a lot of purposes.
When it touches your skin, it picks the moisture off your skin. Furthermore, it does not pick up sand or pesky granules.
In that case, you can use it on the beach and there is no need to worry about having sand winding up at the bottom of your clothes or shoes or bags.
Another great thing about it is that it is quick-drying. It means that when you hang it somewhere, it dries up in a few minutes. In that case, it is not only space-saving but it is also a quick-drying solution for anyone who takes swim classes.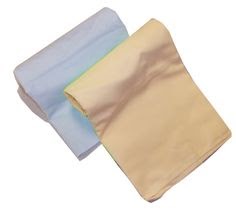 Why Not Just Use the Towel in the Shower?
In some pool facilities, they provide towels for swimmers with no additional cost. However, if you are the type of person who does not want to use other people's towels, then you might want to bring your own.
But, this towel also comes in handy if the pool requires you to bring your own owel or purchase one at the counter. Of course, the most obvious choice here is to just bring your own to avoid buying a towel.
This towel is also ideal when you are traveling. Since it is lightweight, you can easily tuck it into your luggage.
When you arrive at your destination, you can take it out, use it, hang it out to dry and fold it after an hour. It will not take up a lot of space in your bag.
If you go swimming when you travel, you can choose to bring this towel to the pool, instead of buying one. Truly, it is a handy towel that you can take anywhere, even if you are not swimming.
Here at Sprint Aquatics, we offer this towel for only $15.75. If you are purchasing it for your school or business, you may give us a call so we can give you a discount for buying in bulk.
While you are shopping on our website, you might want to check out our other swimming products for your gym or pool. We provide a lot of swimming accessories that you can have for your competitive pool.
When you run a pool, there are several tools and equipment you need to provide for your clients. These would include pool noodles, decorative water fixtures, inflatable toys, and a lot more.
You may use Sprint Aquatics as your one-stop-shop for your competitive pool. Feel free to browse our site and find products that interest you. Give us a call for any discounts you can have if you wish to purchase a magic towel and other products in bulk: (800) 235-2156.