Sprint Aquatics Swimming Accessories You Need for Your Competitive Pool
There are many things you are going to need to keep in mind when it comes to running a competitive pool. These pools are not meant for lounging or relaxing, they are meant for training and racing. This means that the usual items you've come to expect from pools, such as inflatable toys, pool noodles, or decorative water fixtures, are not going to be necessary. Instead you will need to accommodate training equipment, accessories, and special storage. Yes, this will come at a cost, but they are what people have come to expect from competitive pools, and the tools they are counting on when they are there. The best part is that with Sprint Aquatics Swimming Accessories, getting these tools doesn't have to be complicated, or even overly expensive.
Swimming Kickboards
Swimming kickboards are some of the most vital training tools. Not only are they ideal to teach the basics of each swimming stroke, but they allow for competitive swimmers to refine technique and endurance by keeping their upper body afloat. Only the most dedicated few will own their own swimming kickboards. That's because most competitive pools will have them there for people to use. This is why it's good for these pools to keep a reasonable stock of kickboards for swimmers to train with. These come in a variety of sizes, shapes and colors.
Competitor Racing Lanes
Any competitive pool will need to have competitor racing lanes. These are cables that extend all the way through the length of the pool, floating thanks to customizable colorful plastic rings that divide the pool into lanes. This allows for organization within the pool, giving each swimmer their own designated space so they can easily train uninterrupted. Convenient storage reels allow for the lanes to be extended or removed from the pool whenever needed, giving you control over the area layout. While the use of these will depend on the size and use of the pool in question, they are good and often necessary swimming accessories for any competitive venue.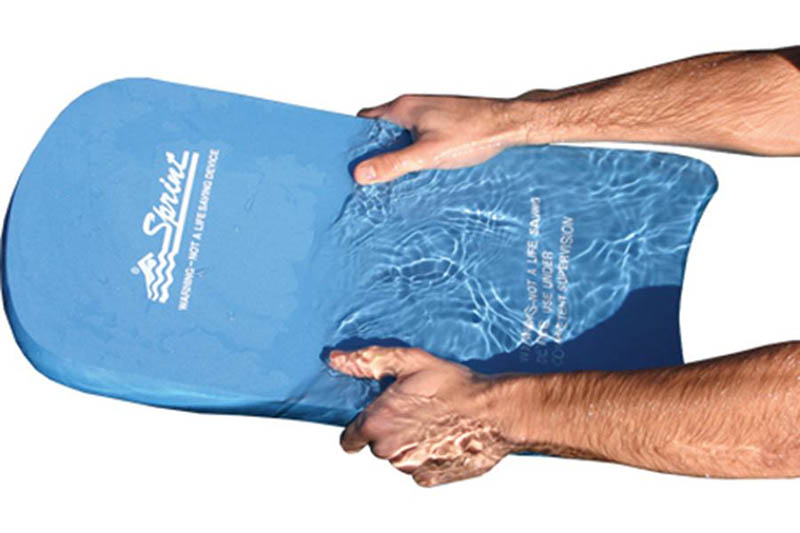 Swimming Competition Clock and Storage
If you are equipping a competitive pool, you will need a pace clock for swimmers to be able to time themselves as part of their training. The size of these large clocks and their print allows them to be easily visible from everywhere in the pool. Lastly, it's good to round up all your bases by offering proper storage for all of the amenities. There are plenty of special storage bins made specifically to hold aquatic equipment and swimming accessories. These can protect your assets and organize them for both your and the users' convenience.
Sprint Aquatics Swimming Accessories for Competitive Pools
What people want of pools the most is convenience. They want the least amount of hassle and distractions for their training so that they can comfortably and efficiently exercise and focus on their self-improvement. Giving pool users the necessary accessories and facilities guarantees contentment with the venue and will invite regulars to the pool in question. Get in contact with us today if you would like prices or more information on any of our products. By phone (800)235-2156 or email: info@sprintaquatics.com Check out our website for picture or more details about these items and more at www.sprintaquatics.com