The Essential Aquatic Equipment for Water Aerobics
The mere mention of water aerobics probably evokes images of older people standing in place while splashing around a pool. They can actually be much more than that, particularly when you really commit to them. Through discipline and some aquatic equipment you can easily turn a water aerobics session into a full-on workout that really pushes your limits. At the same time, they can just be simple and relaxing, merely soothing your muscles via the implementation of floating and resistance products. These are some of the tools you can use to enhance your water aerobics routine through simple aquatic equipment.
Floating Aids
One of the basic concepts of water aerobics is keeping yourself afloat. There are many pieces that can help you with this, from classic pool noodles to more sophisticated equipment, and your choice will depend on what suits your needs better. Belt floats, for example, is a solid piece of foam that wraps around you to help maintain a vertical body position to assist you without having to put in a lot of effort. Another one would be a water backfloat, which has multiple pieces of foam ranging from 3 pieces to 6 pieces. The more foam on the belt the more buoyancy which means you float more. This allows you to remain floating whether you are face up or face down in the water, once again without you having to make much of an effort to do so.
Hand Bells
Hand bells look very similar to the ones you'd find at the gym. But while those provide weight for you to work out, these provide resistance. In fact, these water handbells don't weigh a lot, they just have foam at either end of their plastic bars. However, once you sink them into the water it seems like they start weighing an awful lot. That's when their intended use kicks in. As you move through the water with these in your hands, you are creating resistance, making it harder for your arms to make their way through. This aquatic equipment enriches water aerobics by providing an arm workout and incorporating it into the exercises.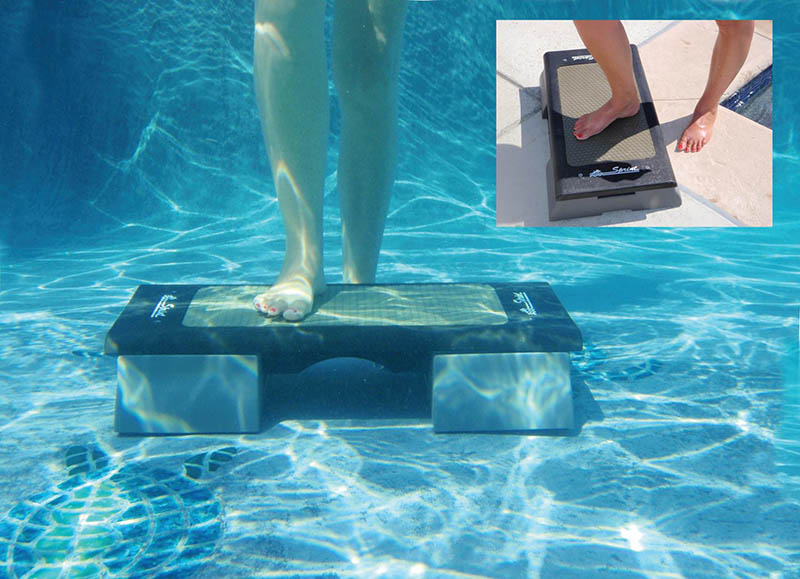 Water Weights
Like their name indicates, the purpose of water weights is weigh you down while you are in the water. These weighted wraps that are buckled around either your ankles or your wrists in order to provide a more challenging workout to your water aerobics. Swimming is usually about using your own body and the resistance of the water to fuel your workout, so these water weights are meant to push you through to a better workout. These come in a variety of different weight ranges, some of which are adjustable and allow you to decide just how much strain to subject yourself to.
Buy Sprint Aquatics Equipment Online
Sprint Aquatics has got you covered when it comes to all of the aforementioned equipment and more. You will never know the true potential of water aerobic workouts until you try your hand at enhancing them with the latest aquatic equipment. We always have the best equipment at the fairest prices. We are always willing to work with our customers. We even offer special pricing for schools and businesses! Just call us at (800) 235-2156 or email us at info@sprintaquatics.com if you would like to place an order or ask about our stock. We are ready to answer all of your questions. Please visit our entire product line at www.sprintaquatics.com