Water Aerobics Equipment to Enhance Your Training
You only need to take a look at any swimming practice to see how intense they are. Every swimmer training is completely concentrated on what they are doing, 100% focused on getting the most of the practice. If you yourself swim, your goal is to make your training as effective as possible, and there are many different ways for you to enhance them through state of the art water aerobics equipment. Here are a few of our suggestions for ways you can implement them into your daily swimming practices.
Custom Swim Caps
When swimming competitively, particularly as part of a team, custom swim caps are a key part of both training and competitions. First of all, they play a functional role. Swim caps, which are commonly made out of latex, silicone, or lycra, are necessary in order to keep hair out of the swimmer's eyes, to protect the hair from the chlorine in the water or from the water itself, and to keep stray hair from falling into the pool. The fact that they are indeed necessary and every swimmer in the team will be wearing them gives way to use them as a uniform of sorts, especially since swimming doesn't exactly allow for a lot of variations for uniforms. Custom swim caps can help your teambuilding and make the team recognizable in different competitions.
Swim Belt Tether
Imagine yourself trying to swim with a drag chute tied to your waist. It's hard to get more resistance than that, huh? The drag chute tether and tow is a very interesting swimming tool, for it forces you to put more effort into your training by literally holding you back. It is like the ones you see athletes use on land while they run, the chute is offering resistance because of the wind. The tow follows you behind as you swim, catching the water you as you swim which creates resistance against you. These are particularly good for long swims. Because it doesn't depend on your body, the resistance is fairly consistent, allowing you to find a regular pace at which to adapt to the drag.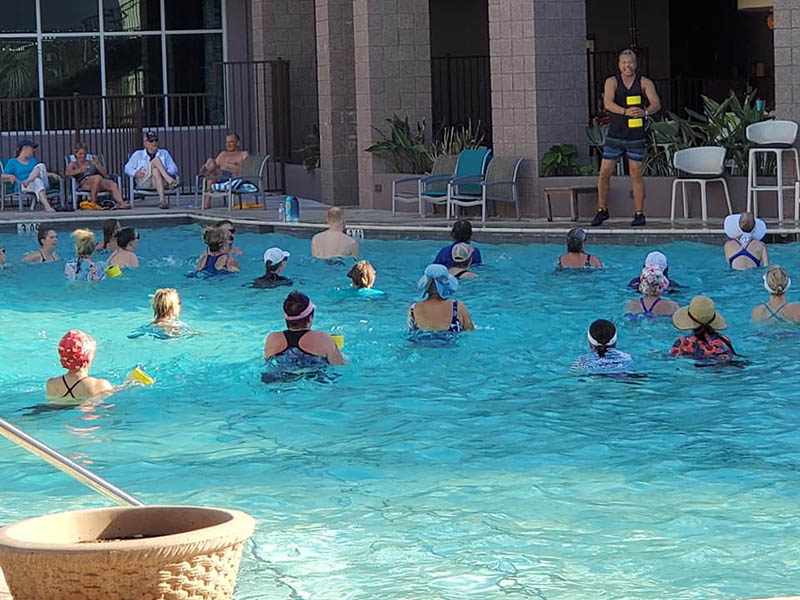 Lap Counter
Counting laps is a key part of swimming training, as well as one of the key sources of stress for competitive swimmers. Why? Because concentrating on your swimming practice takes a lot of mental effort and having to count laps on top of that becomes very distracting. The solution to this is to implement a lap counter into your routines. These don't only display the number of laps, just like the name implies, but they can also keep count of your stats, such as timing your individual laps, your average times, and your total times. This useful water aerobics equipment will make your training go a lot smoother than usual, making them more effective and allowing you to better concentrate on your workout.
Sprint Aquatics Water Aerobics Equipment
Whether you are looking to make your training more intense for yourself or to make counting your laps more efficient, water aerobics equipment can be quite a good way to enhance your practice. You can find all of the aforementioned products, as well as many more, by browsing our website!